Things Heard & Seen (2021)
Catherine Clare reluctantly trades life in 1980 Manhattan for a remote home in the tiny hamlet of Chosen, New York, after her husband George lands a job teaching art history at a small Hudson Valley college. Even as she does her best to transform the old dairy farm into a place where young daughter Franny will be happy, Catherine increasingly finds herself isolated and alone. She soon comes to sense a sinister darkness lurking both in the walls of the ramshackle property—and in her marriage to George.
Animal Action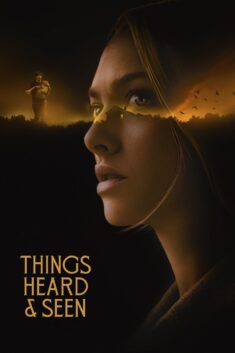 In the scene where the actor jogs towards the stables and sees an actress leading a horse by a rope, prior to filming the horse wrangler walked the horse to the actress and handed her the rope. The horses were habituated to performing the animal action needed.
In the scene when the actress looks out the window and sees a vulture standing on a chimney, they filmed this scene on a soundstage on greenscreen. Prior to filming the trainer brought the vulture to the set, placed him on a perch, and stood off to the side.
In the scene where the bird crashes through the window, the trainers opened the window and lured the bird to fly through the open window with food. In post production they made it look as if they bird crashed through the window.
Due to late notification, American Humane Association did not monitor any of the alpaca action.