The Many Saints of Newark (2021)
Young Anthony Soprano is growing up in one of the most tumultuous eras in Newark, N.J., history, becoming a man just as rival gangsters start to rise up and challenge the all-powerful DiMeo crime family. Caught up in the changing times is the uncle he idolizes, Dickie Moltisanti, whose influence over his nephew will help shape the impressionable teenager into the all-powerful mob boss, Tony Soprano.
Animal Action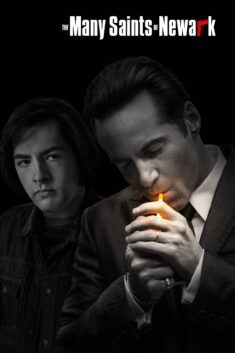 Throughout the film, the main character has a pet dog, who is seen performing such mild action as sitting/standing/lying, being held or petted, and walking/running on or off leash. For all of these scenes, trainers used hand signals and verbal commands to cue the mild action, which the trained dog was accustomed to performing. The barking/growling was also a trained behavior.
In the scene where the little girl rides a hose in the equestrian center, the trainer passed the reins attached to the actress. On action the actress rode in circles in the center. The trainer was off camera and cued the rider to pick up a canter and jump one cross railed fence that faced one of the cameras
In the scene where the actor walks the dog towards the house and the kid drops the speakers from the window onto the front yard, the speaker was dropped when the dog was still on driveway and the 2nd one closer to the house when dog and actor are on front walk. The speakers were dropped a safe distance from the boy and dog.
In the scene where the two men fight in the garage and there's a quick shot of a pigeon reacting, the trainer brought the pigeon to the set in a box. On action the trainer held the net behind the pigeon out frame to encourage it to move on the shelf. The pigeon walked along the slanted shelf and occasionally fluttered its wings for balance. After about five minutes cut was called and Kim moved in and caught the pigeon with a net, and then removed it from the net and placed it back in its crate by hand.