The Lovebirds (2021)
A couple experiences a defining moment in their relationship when they are unintentionally embroiled in a murder mystery. As their journey to clear their names takes them from one extreme – and hilarious - circumstance to the next, they must figure out how they, and their relationship, can survive the night.
Animal Action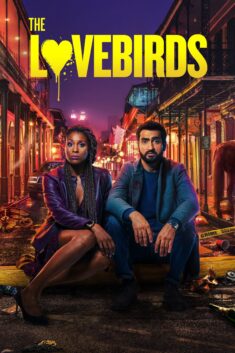 In the scene where the couple walk near the bridge, and we see a man walk a dog in the background, the man who walked the dog was its owner. He gave the dog treats and water between takes.
In the scene when the actress opens the barn door, we see the backside of the horse in a stable and the horse suddenly rears back and kicks the man tied to the chair, the horse's rear was toward the doorway three feet from a chair in the other room. On cue the horse kicked with his right rear leg at the chair sometimes knocking it over. The set was a wooden barn constructed inside a film studio. The horse acted in a room with concrete floor but with straw scattered over the floor. They used a trained kicking horse who kicked on cue. The cues were a clicking of the tongue sound made by the trainer or a light touch to the horse's leg using a riding crop. The special effects team manufactured a mechanical, life size, puppet of a horse's hind leg, complete with a tail colored to match the hero horse. This mechanical puppet leg was to intended to be used in the scene where the horse kicks the talent in lieu of the real horse. The mechanical leg kicked the actor without an issue.
In the scene when the couple runs into the tunnel and pass a dog, and two people with horses, the dog was walked to set from the holding area by its owner wearing a harness and a leash. The dog and handler waited at point A on the bank. On action the actors began to run towards camera and the man and the dog walked away from camera to point B. On cut the dog and handler walked back to point A for reset.
Due to late notification and/or limited resources, American Humane Association did not monitor some of the dog action.