A Quiet Place Part II (2021)
Following the events at home, the Abbott family now face the terrors of the outside world. Forced to venture into the unknown, they realize that the creatures that hunt by sound are not the only threats that lurk beyond the sand path.
Animal Action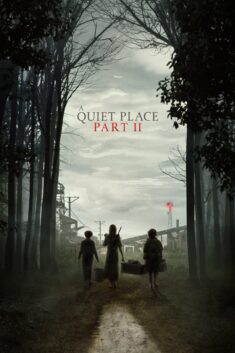 In the scene where the kids play a baseball game and a barks in the background, the street was closed to traffic and the dog was kept on leash at all times. The dog was given water and treats between takes.
When the people walk down the street and one of them has a dog on a leash, road was closed for filming. The dogs were taken off road and kept on leashes between takes. Water was provided between takes. And dogs were kept in shade until action.
The bees and the raven were created by CGI in post-production.
In the scene where the actors look inside a house and see a pen with chickens inside, production provided a spacious chicken coop for the hens being filmed. The coop had a hen house with an attached exterior picket fence/chicken wire paddock. The coop was completely secured by chicken fence and free of hazards. The chickens were secure and relaxed in the coop.
Due to late notification, American Humane Association did not monitor some of the dog action.